项目介绍
Are you passionate about developing futurist wearable interfaces for XR?
We are now looking for a postdoc or a doctoral student to join Aalto Wearable Systems Lab. In this position, you will get a chance to work with industrial partners and end users to develop textile-based wearable haptic devices (e.g., smart garments that provide touch sensations) for XR.
Aalto Wearable Systems Lab is a multidisciplinary group that focuses on developing future wearable devices and applications. The group is passionate about solving real-life problems with human-centered design approaches and advanced XR, AI, sensing and edge computing technologies. It has carried out several European and Finnish research and innovation projects related to AI and XR. More information about the group can be found from https://www.aalto.fi/en/wearable-systems-lab.
The candidate for the doctoral student position is expected to have a master degree in relevant areas (e.g., human-computer interaction, embedded systems, textile design, artificial intelligence), and basic knowledge about interaction design. Experience with electronic design, machine learning, or textile design is considered as a plus.
The candidate for the postdoc position is expected to have a doctoral degree in relevant areas (e.g., human-computer interaction, embedded systems, textile design, artificial intelligence). Experience with human-centered design is considered as a plus.
Expected starting date: Spring 2022
Ready to apply?
If you want to join our community, please submit your application through our recruitment system by using "Apply now!" link below no later than 30.11.2021. To apply, please share your CV, a research plan and recommendation letters from previous supervisors.
Please note that if you already have an aalto.fi email address, register still with your personal email address, not by using aalto email address.
More information
For further information please contact Assistant Professor Yu Xiao yu.xiao@aalto.fi. Regarding the application process and practical arrangements, please contact HR Coordinator Pihla Porvari pihla.porvari@aalto.fi
About Aalto University and Finland
Aalto University is a community of bold thinkers where science and art meet technology and business. We are committed to identifying and solving grand societal challenges and building an innovative future. Aalto University has been ranked the 9th best young university in the world (Top 50 under 50, QS 2018) and one of the world's top technology challenger universities (THE 2017), for its outside-the-box thinking on research collaboration, funding and innovation. Aalto has six schools with nearly 11 000 students and 4000 employees of whome close to 400 are professors. Our campuses are located in the capital area of Finland. With 37% of our academic faculty coming from outside Finland, we are a highly international community with strong academic standing.
At Aalto, high-quality research, art, education and entrepreneurship are promoted hand in hand. Disciplinary excellence is combined with multidisciplinary activities, engaging both students and the local innovation ecosystem. Our main campus is quickly transforming into an open collaboration hub that encourages encounters between students, researchers, industry, startups and other partners. Aalto University was founded in 2010 as three leading Finnish universities, Helsinki University of Technology, the Helsinki School of Economics and the University of Art and Design Helsinki, were merged to strengthen Finland's innovative capability.
Gender equality, flexibility and low hierarchy are at the core of our Nordic working environment. Professional ambitions can be combined with a fulfilling personal life. As a living and work environment, Finland consistently ranks high in quality-of-life. For more information about living in Finland, please visit our information pages for international staff: https://www.aalto.fi/aalto-university/international-staff-guide
To visit our campus:
Aalto University Campus Tour – YouTube
More about Aalto University:
Aalto.fi
twitter.com/aaltouniversity
facebook.com/aaltouniversity
instagram.com/aaltouniversity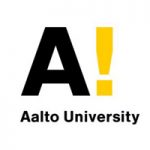 院校简介
阿尔托大学位于芬兰,是一所古老而创新力强的世界著名高等学府。
查看院校介绍
相关项目推荐
KD博士收录了全球400所院校的博士项目,总有一个项目等着你!