项目介绍
Function
Are you a highly motivated researcher and excited by an interdisciplinary project on developing autonomous drone technology for wildlife conservation? Are you interested in innovative and applied research to develop effective and feasible practices to monitor wildlife populations and manage human-wildlife conflicts? Then we invite you to apply for this exciting PhD position in our team!
Recent advances in technology have paved new avenues for more accurate and large-scale interventions to prevent wildlife population decline. The overarching aim of the EU-funded Doctoral Network "WildDrone" is to revolutionize wildlife conservation practices by integrating the fields of aerial robotics, computer vision and wildlife ecology, using autonomous drone technology as a unifying platform. WildDrone will develop new autonomous systems (innovation in drone technology), expand current software (innovation in machine learning and computer vision), and combine these advances to create practical tools for visual inspection and monitoring of wildlife populations, movement, behaviour, and habitats in complex field settings (innovation in ecology).
The PhD candidate will (1) analyse data from collared predators to identify movement signatures indicative of hunting, (2) use drones to study the long-term responses of free-ranging zebras after an encounter with predators or humans, and (3) analyse movement data to identify individual and collective behaviours that can differentiate between predator attacks and encounters with humans.
We are looking for a PhD candidate who is keen to perform state-of-the-art research on tracking and studying movement of predators and prey using drones. The candidate is expected to publish the research findings in leading international academic journals, but must also communicate well across disciplines, project partners and stakeholders (e.g. government, development). The candidate will also be involved in the supervision of MSc students who perform their thesis research within the framework of the project.
Function Requirements
MSc in ecology, environmental sciences, or a related field;
quantitative skills for analysing spatial and temporal data;
experience in data science and statistical modelling;
team player;
good organizational and communication skills;
excellent command of English (C1 level).
Working conditions
Wageningen University & Research offers excellent terms of employment. A few highlights from our Collective Labour Agreement include:
paid parental leave;
working hours that can be discussed and arranged so that they allow for the best possible work-life balance;
the option to accrue additional holiday hours by working more, up to 40 hours per week;
there is a strong focus on vitality and you can make use of the sports facilities available on campus for a small fee;
a fixed December bonus of 8.3%;
excellent pension scheme.
In addition to these first-rate employee benefits, you will receive a fully funded PhD position and you will be offered a course program tailored to your needs and the research team. The gross salary for the first year is € 2.434,- per month rising to € 3.111,- in the fourth year in according to the Collective Labour Agreements for Dutch Universities (CAO-NU) (scale P). This is based on a full-time working week of 38 hours. We offer a temporary contract for 18 months which will be extended for the duration of the project if you perform well.
There are plenty of options for personal initiative in a learning environment, and we provide excellent training opportunities. We are offering a unique position in an international environment with a pleasant and open working atmosphere.
You are going to work at the greenest and most innovative campus in Holland, and at a university that has been chosen as the "Best University" in the Netherlands for the 17th consecutive time.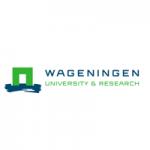 院校简介
瓦格宁根大学是一所以农学著称的世界顶尖研究型高等学府。
查看院校介绍