项目介绍
We are looking for an excellent PhD Candidate to work in Characterization of healthy and diseased mouse models from retinal circuits to visually guided behaviour
Objectives:
Characterize the retinal output of different mouse models of retinal diseases
Correlate the retinal output to the animal behavior in the water maze
Expected Results:
Definition of the limit in ganglion cell output to trigger visual perception
Conclusions for expected visual perception during visual restoration based on the restored retinal output
Host institution: Aalto University (Aalto, Finland) – Supervisor: Petri Ala-Laurila
Aalto University (Aalto) is the largest technology-oriented university in Finland. The Department of Neuroscience and Biomedical Engineering is located in the Otaniemi campus – one of the most important north-european technology hubs, with a high concentration of companies, and research institutes from the high-technology sector, and with a thriving culture of entrepreneurship.
Dr Ala-Laurila has two laboratories (http://ala-laurila.biosci.helsinki.fi/): one at Aalto University and one at University of Helsinki. Both labs work in integrated collaboration and have state-of-the art approaches to study retinal circuits and visually-guided behavior. They combine cutting-edge electrophysiological recording techniques with precise manipulations of retinal circuit function, mathematical modelling and quantitative behavioural measurements: https://www.youtube.com/watch?v=ZniIYFSIcT8
Requirements from the applicant:
Highly motivated, previous experience on behavioral experiments and/or electrophysiology is a plus
Formal requirements for eligibility: at the time of appointment, applicant must not have resided or carried out their main activity (work, studies, etc.) in Finland for more than 12 months in the 3 years immediately prior to their recruitment. Short stays, such as holidays, are not taken into account.
Application documents:
Motivation letter
CV
Recommendation letters
Scanned copy of the degree which would formally entitle the candidate to embark on doctorate.
Transcript of records for both Bachelor degree and Master degree (or equivalents).
Applications will be reviewed as soon as they arrive so please submit your application as soon as you can.
For additional information, please contact Aarni Seppänen, aarni.seppanen@aalto.fi
Want to know more about us and your future colleagues? You can watch these videos: Aalto University – Towards a better world, Aalto People , and Shaping a Sustainable Future. And this webpage about Aalto and Finland. https://www.aalto.fi/en/services/welcome-to-aalto-university-and-finland-info-package

Check out our new virtual campus experience: https://virtualtour.aalto.fi/
More about Aalto University:
Aalto.fi
twitter.com/aaltouniversity
facebook.com/aaltouniversity
instagram.com/aaltouniversity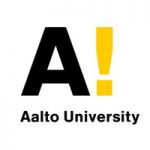 院校简介
阿尔托大学位于芬兰,是一所古老而创新力强的世界著名高等学府。
查看院校介绍
相关项目推荐
KD博士实时收录全球顶尖院校的博士项目,总有一个项目等着你!