项目介绍
Job description
The research group GASPAR (www.gaspar.ugent.be) is looking for a motivated and enthusiast researcher in order to conduct a PhD based on a 4-year research project on Loser's Consent. Below, you find a short summary of the content of this project:
It is part of the democratic game that every decision creates winners and losers. This is true both for elections as well as individual policy decisions. Loser's consent (i.e. the consent of those who did not get what they wanted) is crucial for the stability of democracy. It implies that even citizens whose personal preferences do not align with the system's outcome, perceive the system as legitimate, lend basic diffuse support to the system and accept and comply voluntarily with its political decisions. It is consequently essential that all citizens, even the disappointed ones are motivated to accept and comply with the new policies voluntarily.
Despite the importance that is widely attributed to losers' consent, empirical insights into some of its core assumptions are missing. First, to date, we know little about the mechanisms that cause low levels of loser's consent. Why are losers less inclined to consider the political system and its decisions as legitimate? Second, we do not know to what degree losers are effectively underrepresented in the policies that the political system produces and whether this depends on the political system in which they live. Does losing an election actually mean losing out on policy? Third, while the legitimacy generating potential of alternative decision-making bodies (e.g. citizens assemblies, citizens panels, etc.) and of post-decision justifications has already been demonstrated in the literature, to date we do not know which combination of factors ensures compliance and acceptance among losers. How can loser's consent be strengthened? By investigating these three topics, this project aims to bring original insights into the debate on losers' consent – a topic that represents a major democratic challenge.
Job profile
You hold a Master in political science, sociology, public administration, or in any other field of social sciences with comparable qualifications
You think critically, creatively and systematically
You are strongly motivated to conduct scientific research
You want to write a doctoral dissertation based on this project (including following a PhD Training)
You are able to organize and execute this research project autonomously
You are familiar with theories and research in the social sciences
You are familiar with experimental research methods, or you are willing to improve your knowledge about these methods
You are familiar with statistical analysis, or you are willing to improve your knowledge about these methods
You obtained excellent study results
You possess good English speaking and writing skills
You are a team-player, and you are prepared to take up some responsibilities in the GASPAR team
You are motivated to participate in international conferences and to publish in international outlets
How to apply
Send us your motivation letter, your CV and an overview of your study results, and an essay (in English) of 1 page where you critically reflect on aspects of the topic at stake here by Friday, 9th of July 2020. All these documents are preferably merged into one PDF-file. This merged file should be sent to Prof. A. Kern (anna.kern@ugent.be).
For more information about the content of the job and/or the project, you can contact also Anna Kern (anna.kern@ugent.be ).
Last-year students (graduating in June) are especially encouraged to apply.
Job interviews will be held in the last two weeks of August.
录取要求
You hold a Master in political science, sociology, public administration, or in any other field of social sciences with comparable qualifications

You think critically, creatively and systematically

You are strongly motivated to conduct scientific research

You want to write a doctoral dissertation based on this project (including following a PhD Training)

You are able to organize and execute this research project autonomously

You are familiar with theories and research in the social sciences

You are familiar with experimental research methods, or you are willing to improve your knowledge about these methods

You are familiar with statistical analysis, or you are willing to improve your knowledge about these methods

You obtained excellent study results

You possess good English speaking and writing skills

You are a team-player, and you are prepared to take up some responsibilities in the GASPAR team

You are motivated to participate in international conferences and to publish in international outlets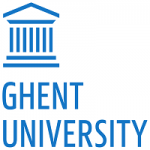 院校简介
根特大学是比利时学术排名第一的世界顶尖研究型大学。
查看院校介绍