项目介绍
Admission Requirements
The Division of Industrial Design offers research study opportunities in Postgraduate Degree Programme leading to Masters of Art (Industrial Design) or PhD, as well as Postdoctoral Fellowship Programmes.
MA (ID)
2-3 year full time by research Pre-requisites: Bachelor of Arts in Industrial Design with Honours degree or its international academic equivalent3-5 years full time by research Pre-requisites: Master of Arts of Industrial Design or its international academic equivalent
The M.A. /Ph.D. (ID) is a graduate programme by research that serves to advance the study of Industrial Design. It emphasizes a holistic approach to research in design thinking and practice. Candidates undertake research across a spectrum of design issues, from design processes and methods, to design problems concerning product users.
The research methodology also focuses on interactive design, environmental and sustainability concerns. The research areas of the Industrial Design programme include design theory, practice and innovation, technology and universal design, and biomedical equipment design.
PhD (ID)
Period of Candidature
To be admitted to the Master's degree by research programme, candidates should have at least a good Second Class (Honours) degree, and to be admitted to the Doctoral programme, they should have a Master's degree. In both cases, they should be able to demonstrate ability to pursue research in the selected field of study. A student entering the Master's degree by research programme may apply for the Doctoral programme after one year of favourable progress towards his/her Master's degree. Applicants whose native tongue or medium of undergraduate education is not in English MUST submit documentary evidence of their TOEFL scores. The minimum TOEFL Score ranges from 580 TO 600 or 85 for internet based test. IELTS score should be 7 and above. Applicants are encouraged to take the TSE (Test of Spoken English) and TWE (Test of Written English).For the Master's degree, the minimum period of candidature is 1 year while the maximum is 3 years. For the Doctoral degree, the minimum period of candidature is 2 years while the maximum is 5 years.There are two intakes per academic year: one in August and the other in January. Please note that the completed application form together with all the supporting documents must be submitted to the Vice-Dean (Research) by 15 MAY for the January intake and by 15 NOVEMBER for the August intake respectively.Please click here for more information on Scholarship, Financial aids and Fee.
Before submitting your application online, you are advised to read the respective programme information above and here for general instructions of application for research students.
Please click here for more information.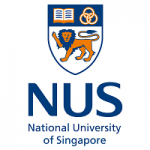 院校简介
新加坡国立大学是新加坡首屈一指的世界级顶尖大学。
查看院校介绍
相关项目推荐
KD博士实时收录全球顶尖院校的博士项目,总有一个项目等着你!